November 29th, 2018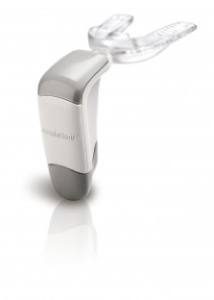 Are you, as an adult, or someone you know dreaming of the perfect smile, but would like to see this new smile sooner rather than months, or even years later? Here at Brilliant Smiles, we can help achieve that with Acceledent!
What exactly is Acceledent?
Acceledent is a technology developed in 2009 with the goal of speeding up traditional orthodontic treatment. It is a hands free device you place in your mouth for just 20 minutes a day.
How does it work?
Acceledent produces a gentle vibration, resulting in a safe and fast bone reshaping and teeth movement. This SoftPulse Technology® is what helps shorten the time needed to finish your treatment by up to half the time. Yes, you read correctly, by up to 50%!
Why choose Acceledent?
If the shortened time frame has not convinced you yet, you will be delighted to hear that not only does it cut the duration of the treatment by up to half, but it also helps relieve the pain normally felt with just braces alone. It is very light and comfortable to wear and it is perfectly safe to use at any age.
Interested? Give us a call to learn more!
 Dr. Goff was the first provider of Acceledent in the Brevard county area, so you can trust that you're in good hands at Brilliant Smiles! We're happy to  answer any questions you may have about Acceledent. Call us for your consultation at  321-779-0000. We look forward to hearing from you! Brilliant Smiles serves the Melbourne, Merritt Island, Palm Bay, Satellite, Titusville and surrounding areas in Florida .